Knight Plumbing has trusted Social Eyes Marketing with their digital marketing for quite some time now. When the time came for the company to upgrade to the next level through its website and ads, our team was excited to help!
Services Provided
Website Development
Google Ads
Video Production
Reputation Management
Professional Photography
The Problems
The old Knight Plumbing site, while still performing well, was a little out-dated by new standards and wasn't converting to the ability we knew to be possible. SEO can be super tricky for "plumbing" since it is such a competitive field in Boise and the surrounding Treasure Valley area, but we wanted to see if we could also ultimately boost rankings in that department.
Meanwhile, the Pay-Per-Click (PPC) ads for Knight Plumbing were converting pretty well, but we knew that there was potential for even more conversions…as well as an extended reach. So we decided to do something about it!

Our Solutions
When building the new website for Knight Plumbing, we wanted to boost visual appeal and functionality. Our web development team really nailed it: the design is bold and authoritative, drawing attention to professional business photography and local testimonials, emphasizing the company's community connection. While keeping our goal of a higher conversion rate in the forefront of the design plan, we focused on utilizing clear calls to action (CTA's) throughout. We also fiercely analyzed existing SEO and used industry best practices to keep content fresh, high quality, and relevant.
When approaching Google Ads, our experts integrated the already existing, successful campaigns into the new website. They also implemented some new types of ads to aid in potential conversions, as well as utilized new tracking technology to better understand user engagement. To expand the brand familiarity of Knight Plumbing, we also implemented new display campaigns to reach a larger audience than had previously been targeted.

The Results
We think it's pretty obvious that the results speak for themselves. Analytics show that both the number of users and their individual pageviews are consistently higher this year than they were in 2019, and appear to be following an upward trend.
Conversions are also up, with nearly 58% of converted traffic sourced through those new ads! Comparatively, the total conversions generated from direct search has dropped from 33% in 2019 to just under 9% in 2020; showing that we must have done something right to increase that outreach.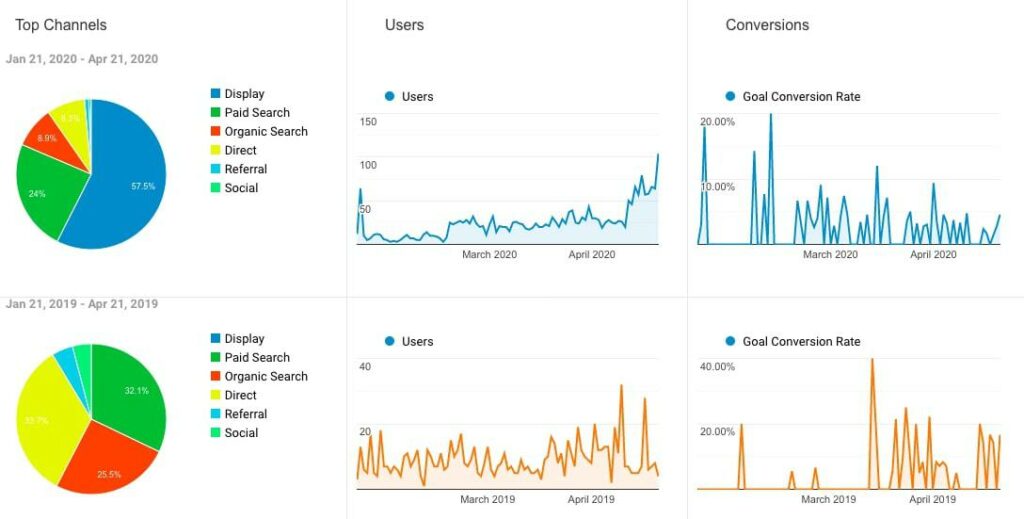 And as for those ads themselves? Their performance shows just how well our experts know the industry! The growth and increased frequency of clicks have helped cement Knight Plumbing on the maps for Treasure Valley locals.

In Conclusion
The Team at Social Eyes Marketing are digital marketing masters. From web design and development to ad campaigns, SEO to business photography, there is no finer firm in the Treasure Valley. If you think your website could use a little sprucing up or you are in need of a little PR or reputation management, contact us today and watch the results blossom!