At Social Eyes Marketing, we love working with local businesses in our community! The team at McDowells Specialty Repair is a great asset to the Treasure Valley. They are highly skilled in so many different areas, and showcasing their diversity on their website is just one of the many things that they have trusted us to do for them!
Services Provided
Content Marketing
Web Development
Pay Per Click (PPC) Advertising
Google My Business
The Problem
When we built a new website for our friends at McDowells last spring, their existing content was good…but we knew we could make it great. McDowells is known valley-wide for their skills at furniture repair and antique restoration, and we felt that their rankings should reflect that!
Our Solution
Using SEO industry best practices, we conducted extensive keyword research and implemented high-quality content updates. Along with a strong PPC campaign, we wanted to achieve strong organic rankings; we built the web page content, created an ongoing content marketing plan, and then let the algorithm have at it!
The Results
Unlike PPC, SEO doesn't take effect overnight. As the months passed, our hard work started to pay off and rankings increased. Within a year's time, McDowells began to dominate the first four positions on the SERPs for the targeted keywords…including holding the number one unpaid spot for furniture repair in Boise!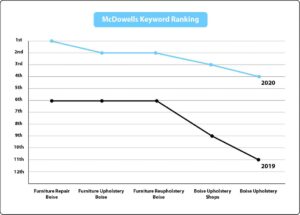 In Conclusion
At Social Eyes Marketing, we take our work seriously. We will never make false or unrealistic claims to our clients and use proven strategies to achieve real results. If, like McDowells, you're ready to go above and beyond paid advertising and get to the real work behind search engine optimization, give us a call today. Our local SEO gurus are ready to help you put your business on page one!